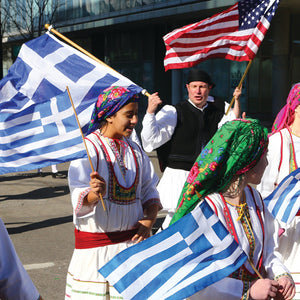 Yesterday's Greek Parade
The Chicago Greek Independence Day parade that I wrote almost a month ago was yesterday. I was there with camera in hand photographing for the Greek Star newspaper. Last night two front page images were sent in and both editors liked them. Look at TheGreekStar.com or go the Facebook page and look for the Greektown parade story. One picture is a large Greek flag and two high school students dressed as Evzones dancing in the street:
The day was sunny, yet a cold, a wind kept everyone one bundled up. Luckily for me I was prepared wearing a down jacket and wool cap that kept me warm. Yesterday's parade was unlike any other that I've seen. Typically the parade marches south on Halsted St and concludes at the intersection of Halsted and Van Buren where a large crowd leftover floats, friends and family all congregate for an ever growing mass of people with nowhere to go. This year was different. Very different. The city was ready and had deployed many city guides at all the intersections around Greektown to help guide all the traffic and it helped tremulously!
Instead of a large crowd at the end of the parade route there was nothing. Van Buren and Halsted Streets were clear, no masses of hungry Greeks waiting cramming into Costa's (Costa's was a Greek restaurant that burned to the ground) just a few folks dressed up as Spartans underneath a small Greek temple that announces the entry to GT and six police officers on horses. My daughter says to me..."Daddy, I saw the horses popping in the street."
Non-Greek floats such as marching bands continued a block further and were diverted in perpendicular directions. Floats that were pulled by car stopped everyone got off them and the cars drove south keeping the intersection clear.
By the time the last rowdy demonstration of the GMA, Greek Motorcycle Association, drove by, it was over. When they reached the intersection, their mufflers silenced. The parade had ended. The familiar sight of people was no more. On the other side of Halsted, six blocks north, where the parade started, street cleaners could be seen on both sides of the street. Closely behind them two large semi-trucks, one on each side of the street, with their doors open collecting the metal barriers that separated the spectators from the parade. Within an hour and half, all signs of the parade were erased. No waving blue and white flags, no more cries of ZHTO (long live Greece) and certainly no more loud public announcer that was reading a script of every float that traveled by. And just like that the parade was over.
---