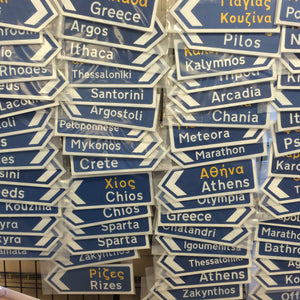 Waiting for a Sign? Here It Is!
If you're like most Greeks of the Diaspora, you love anything that reminds you of the homeland. Greek road signs from Kantyli-Custom Greek Gifts are a great way to bring a little bit of Greece to your home or business.
Among the most popular products at Kantyli-Custom Greek Gifts are Greek Road Signs. Founder, President, & Artisan Panos Fiorentinos shared that the idea for these signs came on one of his family's trips to the island of Kerkyra.
"About seven years ago, we were on Kerkyra. We went for a walk in my wife's village, and I noticed a sign we'd passed many times by car. I hadn't seen it up close. These signs are all over Greece. You've have seen them but, don't pay too much attention to them. That weathered sign seemed to call out to me. I reached out and touched it. As I traced my hand across the raised yellow, faded letters, my model-making senses kicked in. I knew I could make these."
Back at home, he experimented with the colors and different techniques to be sure they were right and could be made quickly. Panos said that with each try, the process got easier. And the ideas flowed.
"At first, I was making signs for the home, pointing toward the kitchen and bathroom. Then one day, someone asked if I could put their village name on a sign. That's where it really started to take off."
He started painting other signs, like the street signs found in Greece. Then, on a lark, he created "Blue Stripe City Limits" signs, which were surprisingly popular. 
"Most of our sign orders are custom," Panos shared. "With names of tiny villages you've never heard of. I've learned so much looking up the villages on Google. The signs look just like the ones you see alongside the road in Greece, with the names in Greek and English. Then businesses and churches contacted me for signs for bathrooms, entrances, exits, and more."
We've created signs with kids' names, American cities and other places too. Even a "GOD" sign with an arrow pointing up. The ideas are endless. You dream it, we can create it!
Kantyli-Custom Greek Gifts has a sign for everything. Make one with your village name. A street name that means something to you or evokes special memories. You can even have a t-shirt made with an image of a sign!
"Really, I can put anything you want on a sign. Kids can see the Greek letters, learn to read them, and it reinforces their Greek language learning. But more than anything they bring back memories for older Greeks who have left the country and haven't gone back, he added.
One customer asked to put two village names on a sign. The villages weren't near each other and would never appear on a road sign together.
"It was something special for her parents. She said the sign was a gift for them, a symbol of their families, and in essence, the villages coming together. It was their story. I really loved that," Panos said. "And she later told me how much her parents cherished it."
Want to tell your story? Get a custom Greek road sign from Kantyli-Custom Greek Gifts! Let's get your sign going. Click here for some examples. See different sizes and shapes. Get some ideas. Email us with your idea, what you'd like to see on the sign. We'll connect and make the perfect sign for you. Need a gift? Have someone who's hard to buy for or "has everything"?  Greek road signs make great gifts. 
If you're waiting for a sign, here it is! Spend $85 and get a free 3.5"x10" mini sign. Get your custom Greek road sign from Kantyli-Custom Greek Gifts today!
---